Retargeting
Bring back users who don't book, then close the sale
Many users are not ready to confirm their booking on the first visit to your hotel's website. Our system lets users save their searches and receive an email with your best available price. When they come back to your website, they'll see a button to resume their previous search.
Retargeting:
Make it easy for potential clients to come back to your website
We keep track of who visits your hotel's website, what they are looking for, what dates and rooms they prefer.
Then, when they are visiting other websites, using Facebook or searching in Google, we'll show then your hotel and invite them to come back and complete their reservation.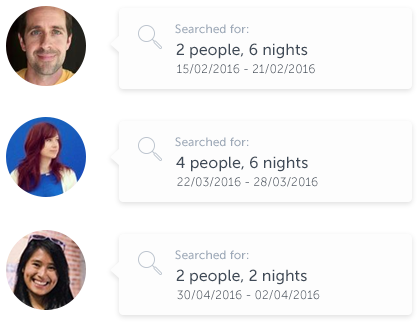 Customize your website for every visitor
Welcome each visitor with the information they want to see and the offer that will convince them to book thanks to our optimization algorithm.
You can go live with a new campaign in 5 minutes, offering promotions, discounts and perks to maximize bookings and revenue.
Request a demo
A live demo is worth a thousand words
Ooops! Something went wrong. Please, try again later!
Great! We'll be in touch!